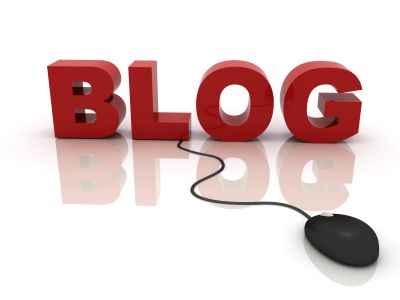 Internet
A
blog
(

a contraction of the words
web log
)
is a discussion or informational site published on the
World Wide Web
and consisting of discrete entries ("posts") typically displayed in reverse chronological order (the most recent post appears first). Until 2009 blogs were usually the work of a single individual, occasionally of a small group, and often covered a single subject.
The emergence and growth of blogs in the late 1990s coincided with the advent of web publishing tools
that facilitated the posting of content by non-technical users.
Previously, a knowledge of such technologies as HTML and FTP had been required to publish content on the Web.

Many blogs provide commentary on a particular subject; others function as more personal online diaries; others function more as online brand advertising of a particular individual or company. A typical blog combines text, images, and links to other blogs, Web pages, and other media related to its topic. The ability of readers to leave comments in an interactive format is an important contribution to the popularity of many blogs. Most blogs are primarily textual, although some focus on art (art blogs), photographs (photoblogs), videos (video blogs or "vlogs"), music (MP3 blogs), and audio (podcasts). Microblogging is another type of blogging, featuring very short posts. In education, blogs can be used as instructional resources. (Source-wikipedia.org)
Recent years huge numbers of Blog has been established in Bangladesh in Bengali language as well as English .This Bangladeshi blog put outstanding contribution to promote Bangladeshi culture ,social ,political ,education etc.Recent years (ruining government) has closed few controversial blog in Bangladesh .We bring few top as well as most popular blog and listed below .
somewhereinblog.net
:
somewherein blog is the first and largest bangla blog community in the world. An extract of every new post is displayed on the front page to create a community feel. This site also hosts group blogs for different topics and locations.
Somewherinblog Contract
details
:
somewhere in..
house 14, road 16/a, gulshan
Dhaka 1212, ,
Bangladesh
Amarblog.com:
Amrblog.com is one of the most populer blog in Bangladesh .Amarblog has started their journey in 2008 .
Amarblog contract details :
Amarblog ,Com
Dhaka
Dhaka 1200
Bangladesh.
Bdtoday.net:
Bdtoday
is one of the latest blog in Bangladesh .This blog based in Bangladesh .This blog published in two language Bengali and English.
Bangladeshi blog site list .

Bengali blog .

Bengali blog site.

Bangladeshi Bengali

blog sites.

Bangla blog .

Bangladeshi popular

blog .

All Bangladeshi community

blog.