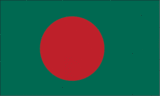 People's Republic of Bangladesh
Capital 😀haka
Independence-From Pakistan
2012 estimate population :161,083,804.
This country Celebrate huge number of national Festival .





Bangladeshi peoples Celebrate few bigest Religious Festivals .
1:Shab-E-Barat
2: Eid-ul-Fitr
3:Eid ul adha
4:Shab-E-Kodor
Shab -E-Kodor
In this night (27 of Ramand ),the Holy Quran was sent down LOH-e-Mehfooz(the preserved Tablet )to the earth.Whole muslim umha clebrate this a day perform nawafil (prayers),Recite Qur'aan ,pray for pardon,Recite many many Salawat etc.Bangladdeshi muslim people Shab -E-Kodor celebrate perform followed by Quran .
Bangladesh Goverment declare as a public holiday .

Eid-ul-Fitr
One of the bigest Festivals for muslim umha .Bangladesh is one of the bigest muslim country in the world.Bangladeshi muslim people celebrate this day .Bangladeshi muslim people celebrating Eid-ul-Fitr the end of fasting .The festivel begin when the first sight of the new moon is seen in the sky.The celebratory atmosphere in bangladesh is increased by everyone wearing new clothes and decorating their homes.Bangladesh goverment declare 5-6- days of public holiday.

Eid ul adha
Eid ul adha is another bigest relegious festivals for muslim world . The festival of sacrifice .Bangladeshi and world muslim people as they celebrate ,reminds themselves of their own submission willingness to sacrifice anything to god's wishes.During the festival Bangladeshi muslims people who can afford to ,sacrifie domestic animals ,usually sheep as a symbol of Ibraham's sacrifice.Bangladesh goverment declare 5-6 days of public holiday.

Others relegious Festivals in Bangladesh
1:Chaitra Sankranti
2 ;Charak
3:Astami
4:Rath jatra
5:Jhulan
6:Nabami
7;Gajon
8:Doul
Secular Festivals in Bangladesh
1: Poila Baishakh
4:Friendship Mela
5:Kite Fair
6:Krisi Mela

National Festivals in Bangladesh
1:International Mother language Day
shaheed Minar
21
of February called International mother language day in Bnagladesh .
It was announced by UNESCO as international mother language day on 17 November 1999.This day bangladeh goverment declare as public holiday.
Another great national Holiday in Bangladesh is
Independences Day .
The Independence Day of Bangladesh (Bengali: স্বাধীনতা দিবস Shadhinata Dibôsh).This day also referred as 26 March is a national holiday
.
We use deffirent sources to write this articles .Thanks every body .If some one want to write about this tropices we are happy to add your best articles and we will published your details as as your photo.please send your details just click here to contact with us .